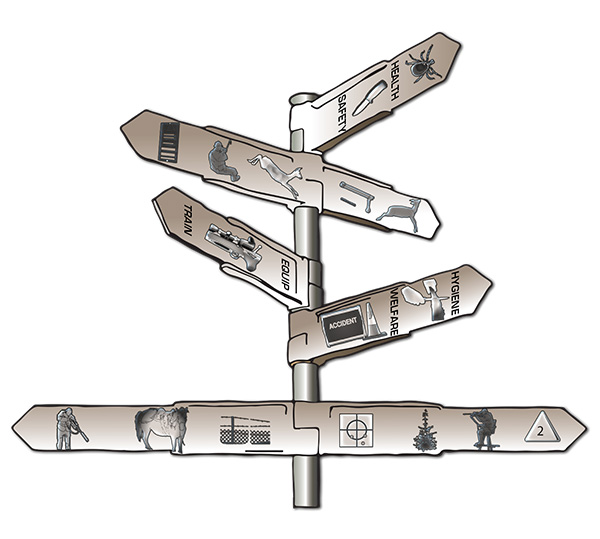 Aim
The aim of this guide is to
provide guidance on key areas of assessment against BP, covering practical deer management activities
outline a process of evidence gathering to support deer managers in identifying learning and skills needs
provide guidance in identifying:

procedures/equipment
regulations
training environments
training opportunities/certification
training providers
funding sources

assess the ability of staff to follow BP guidance.
Introduction
The ability of a landholding/individual to follow BP guidance would depend on levels of knowledge and training, and identification of methods to fill any skills gaps.
Assessment would be undertaken using evidence such as:
relevant training
relevant training certification
appropriate equipment
procedures
staff guidance and policies
codes of conduct.
It is important to emphasise that the assessment is an information gathering exercise and does not seek to test the competence of individuals.
Roles and responsibilities
Owner/Responsible Person/Deer Manager
To carry out assessment of Deer Management Activities on owned and managed land
To report findings of assessment to owner/ senior management/responsible person
To identify gaps where relevant WDBP guidance is not being met
To recommend actions for improvement
Land Manager/Deer Manager
To provide the relevant information and identify areas for action
To facilitate an on-site practical assessment where appropriate
To implement recommended actions as approved by Owner/Responsible Person*
Key Areas of Assessment with Supporting Evidence and Relevant Best Practice Guidance
Key Areas
Evidence
Relevant WDBPG Guidance
Public Safety
DMQ (or equivalent)
Public information
Firearms safety
Public access
Public access signage
Food Safety
Compliance with Meat Hygiene Regulations.
'Trained Hunter' certification.
Carcass tagging & Traceability Procedures.
Appropriate equipment availability.
SQWV.
Carcass inspection (Notifiable diseases and Deer health)
Supply of venison
Basic hygiene principles
Shot placement
Gralloching & Extraction
Lardering
Larder hygiene & waste disposal
Welfare (Including Dispatch of Wounded Animals)
Wounded animal procedures.
FCS Break-in Guidance
Firearms shooting test.
Codes of Practice.
Welfare: definition and assessment.
Welfare: culling.
Use of helicopters: safeguarding welfare.
Shot placement.
Humane Dispatch.
Reaction to shot & follow up.
Use of dogs.
Training & Continuing Professional Development
Formal education (HNC, Nat Cert)
DMQ certificates (or equivalent).
SNH Fit & Competent Register
WDBP Guidance: subscription and events.
Relevant short courses.
Training
Health & Safety (Including PPE)
Equipment checklist.
First aid training.
Radio procedures.
Risk assessment.
Health & safety.
Lone working.
Lyme disease.
High seats.
Firearms
FACs.
Rifle Check Certificates.
Firearms safety.
Maintenance and zeroing.
Rifles and ammunition.
Marksmanship.
Security, transport & storage.
Carcass Handling & Extraction
Certificates (Drivers licence, argo, quad, winches, manual handling).
Equipment checklist
Mechanical & manual extraction.
Pony extraction.
Handling exceptional numbers of carcasses.
Larders and Venison
Equipment checklist.
Venison Dealers Licence.
SQWV.
DMQ.
Local Authority Documentation
Larder records
Larder hygiene & waste.
Lardering.
Skinning
Butchering
Supply of venison.
Larder design.
Deer Management Planning
Deer Management Plan.
Deer count data.
Cull records.
Deer Management Plans.
Planning for biodiversity.
Setting cull targets.
Population assessment: open range counting.
Population assessment: dung counting.
Cull records.
Monitoring
Deer Management Plan.
HIA data.
Habitat Impact Assessment: principles.
Habitat Impact Assessment: principles in practice.
HIA: analysis.
Woodland Damage: recognition of cause.
Socio-Economics
Stalking leases/contracts
Working with clients.
Letting stalking.
Collaboration
Supporting DMG
Deer Management Groups.
Team culling.
Handling exceptional numbers of carcasses.